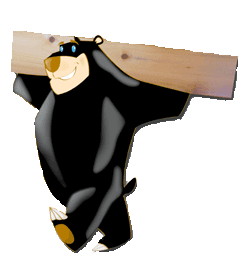 Wainscoting
Beadboard 1 x 4 Knotty Pine Wainscoting
with 2 styles of cap/chair-rail molding. Nail it right over your existing wall surface or use in totally new construction....many uses! Each piece is 3/4" thick and 3-1/8" wide, with a bead running down the center and carries our unique tongue & groove end-match system for a no waste installation! The top chair rail is available in three bead or colonial profile shown just below. Matching baseboard and casing compliment the chair-rail to finish off a complete matching system.
Wainscoting is available in unfinished, clear-coat prefinished or paint-grade primed.
Beadboard 1x4 Pine Paneling-Wainscoting w/2x4 3-beaded chair-rail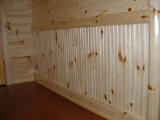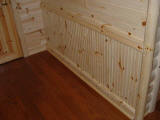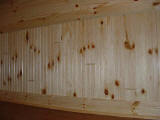 (click photos for larger image)
Regular 1x4 Pine Paneling-Wainscoting w/2x4 colonial chair-rail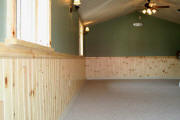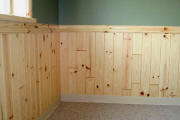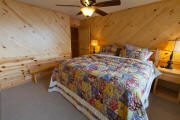 available in 1x4 beadboard without the chamfer on the ends too!


Prefinished Paneling on Sale
Click here for details



Click on thumbnails to enlarge! Price Quotes? (click here)
....here's a great value!
This paneling is the same or better quality as our regular paneling but some pieces will be shorter in length. We guarantee 100% usable product when you buy our Value Line grade paneling at huge discounts.
You Win, We Win! (click here to learn more)

Check out our knotty pine paneling installation video to see the ease of the end-match (no waste) system: Hi Speed or Dial Up
Testimonials: Our quality and service makes the difference...don't take our word for it, just ask our customers...

"Thanks once again for the 1 x 8 knotty pine paneling, my basement
turned out great. I was hoping you could refer me to a source for knotty-pine log furniture. Also, please feel free to use me as a referral if you need to for the tongue & groove paneling as I was completely thrilled with it. The ease of installation and quality of the boards was second to none. Thanks Again and I look forward to hearing from you."
Mike Schultz - Bellevue, NE
"To the gang at Woodworkers... We want to thank-you for all your patience, understanding and hard work, helping us make our home into a beautiful log cabin. Our upstairs is almost done. Next project is the downstairs. We will be coming up to visit you again when we're ready."
Roy and Kathy Harmon - Lapeer, MI
"Just wanted to drop a line or two to tell you what a nice product you have. My son bought the 1 X 4 KPP t & g and the 2 X 8 KP t & g quarter log. Very easy to install, did it with my son, and the look is wonderful. I know that my son told me that your help on the phone, when ordering, was great. The man was very helpful and took the time to explain the whole scenario to him. Again thank you."
Jim Zahrobsky - Brookfield, IL
"I wanted to thank you for your promptness on replying to my e-mail. Enclosed is a picture of the cabin I built with the materials I bought from you. I have been very happy with your company from the quality of the wood products to the affordable price. Many people have come to see my place and were very pleased with what they saw. I gave everybody your companies name and told them what a nice company you were to deal with. If in the future I am in need of anymore wood products I will give you a call. Thanks again."
Mark Kohrs - Florence, KY
"Well, we are finished siding our cabin. The quality of the materials we purchased from you was excellent. We enjoyed working with it and there was very little waste. Here is a few pictures of the finished project. Wishing you all at the Woodworkers Shoppe a nice day!"
Larry and Ginnie Burt - Atlanta, MI
for more testimonials click here


Questions?
800-818-9971
email us: click here

Hours of Business

M-F 7:30am to 4:30pm EST
Sat 8:00am to 12noon EST
Closed on Major Holidays
Easter, Memorial Day, 4th of July, Labor Day,
Thanksgiving Day, Christmas Day, New Years Day

Click HERE to order knotty pine paneling samples,
catalog, brochure, and DVD.

Clearance Page Home Paneling Page
Images shown in this site are items that we sell, or have sold in the past. We reserve the rights to these images and all contents is this site. Copyright © 2000-2015 The Woodworkers Shoppe and Skyline Woods. All rights reserved